Hey guys!
Here's some news for those who love to do fun things, and those who loves to party like me.
The iconic Jim Beam Highball Pop-Up Bar will return on November 12-16 at Eastwood Central Plaza offering an even fresher experience served through the signature highball draft machines from Japan.
Building up from its first introduction earlier this year, the second iteration of the Jim Beam Highball Pop-Up Bar will feature all-new highballs that were inspired by local flavors and designed specifically for the Filipino palate:
Yuzu and Lemongrass Highball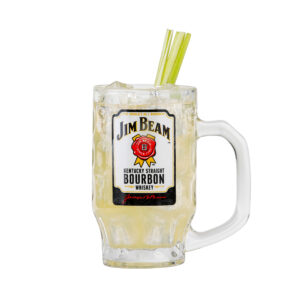 Calamansi and Pandan Highball
Pineapple and Basil Highball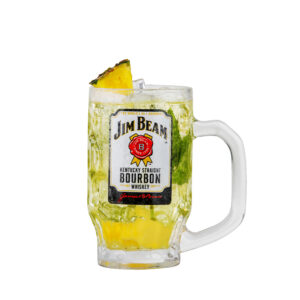 Mango Spice Highball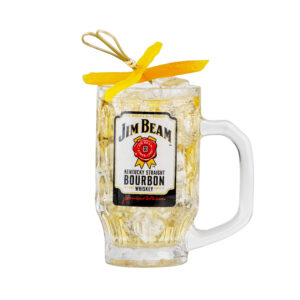 You'll also see the return of familiar flavors that were available during last year's pop-up bar in BGC like the Lychee and of course, the Signature Classic Highball.
JIM BEAM HIGHBALL ON HIGH GEAR
The Jim Beam Highball Pop-Up Bar at Eastwood City will also feature even more live musical performances by some of the country's iconic OPM artists such as Ebe Dancel, The Juans, Clara Benin, Better Days and The Vowels they Orbit.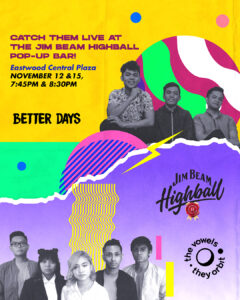 In between listening to these sweet tunes and drinking the freshest highballs, you can also enjoy new games with your friends like the Highball Pong or the Jim Beam Highball Claw Machine! The sought after Make Your Jim Beam Highball booth will be there to give you more reason to enjoy the signature highball. With each purchase of a Highball, you'll be granted a free chip to play these games and a chance to win some awesome Jim Beam Highball merch and other prizes!
 "We're so excited to bring back the Jim Beam Highball Pop-Up bar to the lively city that is Manila! Our new flavors are sure to tantalize your taste buds and leave you craving for more," said Rayern Goh, Senior Brand Manager at Jim Beam. "Jim Beam Highball is an excellent drink that's perfectly well-balanced, refreshing, and pairs superbly with so many dishes. We can't wait to share this with you!"
See you at the Jim Beam Highball Pop-Up Bar at Eastwood Central Plaza from Tuesday to Saturday, November 12-16! The bar will be open from 6pm to 12mn.
And that's it for this update!
Hoping to see you all there!
'til next time!
XoXo
Paula 😘
*
*
ABOUT JIM BEAM 
Founded in 1795, Jim Beam is the world's No. 1 bourbon and has been operated by one family for seven generations. 220 years of experience goes into every bottle, along with corn, rye, malted barley, water, time, pride, and of course, true passion! Jim Beam White is the cornerstone of the Jim Beam bourbon portfolio, and it derives its rich, satisfying flavour from a treasured family recipe where every drop is aged in charred oak barrels. It boasts an oaky vanilla aroma with a medium-bodied flavour with hints of vanilla and caramel. 
Jim Beam is best served in a Jim Beam Highball, a tall cocktail of Jim Beam Bourbon over ice, topped with soda, and finished with a squeeze of citrus! This concoction is the ultimate drink for our tropical climate – it is without equal as a noon-time tipple, an after-work refresher or a weekend party-starter!